---
Rare Metal and Cemented Carbide
---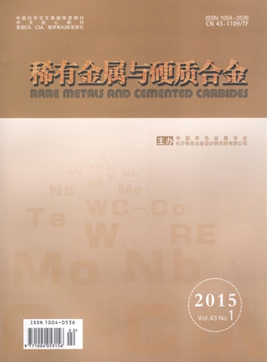 Rare Metals and Cemented Carbide, sponsored by CINF and started in 1973, is a publication issued at home and abroad with international standard serial number ISSN 10040536, CN No CN431109/TF.
The journal is the only technical journal for rare metals and cemented carbide, covering articles and information mainly on the production, processing, research, design and application results, etc. of the rare metals (W, Mo, Ta, Nb, RE, Ti, Li, Be, Rb, Cs, Zr, Hf, V, Ga, In, Tl Ge, Se, Te and Re, etc.) and cemented carbide, the new processes, technologies, new equipment and materials.
The journal is a Chinese core journal, source journal of CSCD, the fixed journal included in the domestic important abstracts like Nonferrous Metal Abstract and China Physics Abstract and international famous abstracts like Chemical Abstract (CA), Cambridge Science Abstract (CSA), Russia Abstract Journal, etc. and is included in Chinese Technical Journal Database as well as in the digitalized network such as China Academic Journals (CD edition) and ChinaInfo.
---